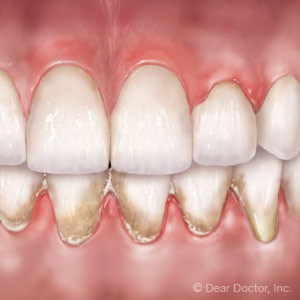 Half of adults over age 30, and an astounding 70% over 65, have had some form of periodontal (gum) disease. Unchecked, a bacterial gum infection can spread into the supporting bone and destroy attachments between the teeth and gums. Because of its rapidity and aggressiveness, gum disease is the number one cause of tooth loss among adults.
But there may be even more harm caused by gum disease beyond losing teeth: There's growing evidence gum disease may worsen other diseases like diabetes, heart disease or rheumatoid arthritis. Patients with gum disease are also more likely to suffer from one or more of these systemic conditions.
The link between gum disease and these other diseases appears to be inflammation. When tissue becomes injured or diseased, swelling (inflammation) occurs to isolate these tissues from the rest of the body. Under normal circumstances, this is a critical defense mechanism to protect the body overall.
But this response is a temporary measure—if it becomes chronic, it can actually damage the tissues it's trying to protect. This often happens with gum disease as inflammation can't overcome the gum infection, and both sides settle into a kind of trench warfare. The same story plays out with other diseases with an inflammatory response. And if the body is waging war with a gum infection, it can worsen these other conditions.
It's important then to take care of your gums and the rest of the body to minimize chronic inflammation. You can help prevent a gum infection by brushing and flossing every day and getting your teeth cleaned professionally at least every six months. You should also see your dentist if you notice swollen, reddened or bleeding gums, often the first signs of gum disease.
It can also benefit your gums if you're addressing other inflammatory issues in your body. Besides regular medical care, you can reduce your risk for other systemic diseases by eating a healthy diet, keeping your weight at an optimum level and avoiding smoking.
The individual parts of your body aren't isolated islands: Diseases that affect one can eventually affect all. By preventing or treating gum disease as early as possible, you'll also help reduce the effects of other systemic diseases.
If you would like more information on preventing gum disease, please contact us or schedule an appointment for a consultation.