Posts for: September, 2020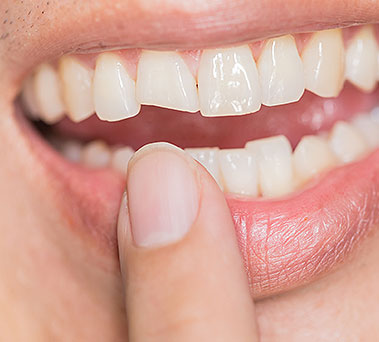 Chipped a tooth? Don't beat yourself up—this type of dental injury is quite common. In fact, you probably have a favorite celebrity who has chipped one or more of their teeth. The list is fairly long.
Some chipped a tooth away from the limelight, such as Tom Cruise (a hockey puck to the face as a teen), Jim Carrey (roughhousing on the playground) and Paul McCartney (a sudden stop with a moped). Others, though, chipped a tooth while "on the job." Taylor Swift, Hillary Duff and Jennifer Lopez have all chipped a tooth on stage with a microphone. And chipped teeth seem to be an occupational hazard among professional athletes like former NFL star, Jerry Rice.
Since smiles are an indispensable asset to high-profile celebrities, you can be sure these stars have had those chipped teeth restored. The good news is the same procedures they've undergone are readily available for anyone. The two most common restorations for chipped teeth are dental bonding and veneers.
The least invasive way to fix a chipped tooth is bonding with a material known as composite resin. With this technique, resin is first mixed to match the tooth color and then applied to the chipped area or applied in layers of color to get just the right look. After a bit of shaping, curing and adjustment, we're done—you can walk out with a restored tooth in one visit.
Bonding works well with slight to moderate chips, but it could be less durable when there is more extensive damage. For that, you may want to consider porcelain veneers. Veneers are thin wafers of dental porcelain that are bonded to the front of teeth to mask blemishes like stains, slight gaps or, yes, chips. Veneers can be so lifelike that you won't be able to tell the veneered tooth from your other teeth. They are fashioned to match the color and shape of an individual's teeth. Because of the time and design detail involved, veneers are more expensive than bonding, yet still within an affordable range for many.
Teeth require some alteration before applying traditional veneers because otherwise the teeth can appear bulky when the veneer is bonded to the existing tooth. To compensate, we remove a little of the tooth enamel. Because this loss is permanent, you'll need to wear veneers or have some other form of restoration for the tooth from then on. For many people, though, that's a small price to pay for a smile without chips.
Your first step to repairing a chipped tooth is to come in for an examination. From there, we'll recommend the best option for your situation. And regardless of which, bonding or veneers, we can change your smile for the better.
If you would like more information about restoring injured teeth, please contact us or schedule a consultation. To learn more, read the Dear Doctor magazine articles "Teeth Whitening" and "Porcelain Veneers: Strength and Beauty as Never Before."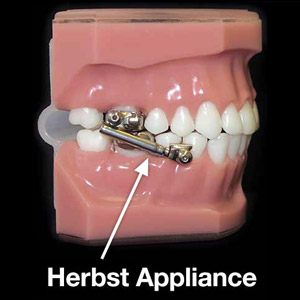 Each year, millions of children and teenagers wear braces or clear aligners to straighten a crooked smile. But there may be a way to treat some of these bite problems and avoid braces—by intercepting the problem at an earlier age.
This can often be done if the bite problem stems from abnormal jaw development rather than misaligned teeth. An example of this occurs when the upper jaw growth outpaces the lower jaw, causing the upper teeth to protrude beyond the lower teeth. Aside from the effect on appearance, protruding front upper teeth may extend beyond the protection of the lip and be more prone to injury.
A device called a Herbst appliance could prevent this from happening. The top of the device has two hinged metal tubes that connect to elastic bands bonded to the back teeth on both sides of the upper jaw. The bottom also has tubes affixed in the same way to the bottom teeth, except they're slightly smaller and fit within the upper tubes.
The lower tubes sliding within the upper tubes produces slight pressure against the lower jaw to ease it forward. This gradually influences the lower jaw to grow at a pace equal with the upper jaw to decrease the chances of poor bite development. Unlike other corrective methods, the Herbst appliance fixed in place and out of the way won't interfere with sports or other physical activities.
An installed Herbst appliance may change a patient's sensations during swallowing, eating or speaking, but most children adapt to the changes within a few days. And, because the device can create challenges for keeping the back teeth clean, many dentists recommend adding a fluoride rinse to daily brushing and flossing as an added boost against tooth decay.
The Herbst appliance is most effective during the period of most rapid physical growth between the ages of 11 and 14, but if the teeth are already beginning to protrude it can be undertaken as early as 8 or 9. Either way, this important orthodontic tool could help address a complicated bite problem and reduce the need for more costly orthodontic treatment later on.
If you would like more information on early interventions for poor bites, please contact us or schedule an appointment for a consultation. You can also learn more about this topic by reading the Dear Doctor magazine article "The Herbst Appliance."