Posts for: September, 2021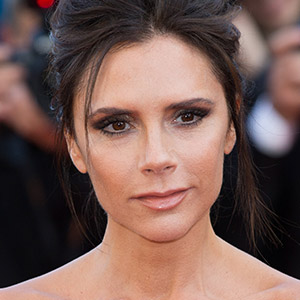 In one respect, celebrities are no different from the rest of us—quite a few famous people love to collect things. Marie Osmond collects dolls (as well as Johnny Depp, reportedly); Leonardo DiCaprio, vintage toys. And, of course, Jay Leno has his famous fleet of cars. But Victoria Beckham's collection is unusually "familial"—she's kept all of her four children's "baby" teeth after they've fallen out.
Best known as Posh Spice of the 1990s group Spice Girls and now a fashion designer and TV personality, Beckham told People Magazine that she has an "entire bucket" of her kids' primary teeth. And, she recently added to it when her nine-year old daughter lost another tooth earlier this year.
You may or may not want to keep your child's baby teeth, but you'll certainly have the opportunity. Children start losing their first set of teeth around age 6 or 7 through early puberty. During the process, each tooth's roots and gum attachment weakens to the point that the tooth becomes noticeably loose. Not long after, it gives way and falls out.
Although a baby tooth doesn't normally need any help with this, children (and sometimes parents) are often eager to accelerate the process. A loose tooth can be annoying—plus there's often a financial incentive via the "Tooth Fairy!"
First off, there's not much harm in a child wiggling a loose tooth—it may even help it come out. It's also possible to help the tooth safely detach sooner by taking a small piece of tissue, folding it over the tooth and giving it a gentle downward squeeze. If it's loose enough, it should pop out.
If it doesn't, don't resort to more forcible measures like the proverbial string and a door—just wait a day or two before trying the gentle squeeze method again. Once the tooth comes out, the empty socket may bleed a bit or not at all. If heavy bleeding does occur, have the child bite down on a piece of clean gauze or a wet tea bag until it stops. You may also have them eat softer foods for a few days to avoid a resumption of bleeding.
Beyond that, there's little else to do but place it under your child's pillow for the Tooth Fairy. And if after their "exchange" with that famous member of the Fae Folk you find yourself in possession of the erstwhile tooth, consider taking a cue from Victoria Beckham and add it to your own collection of family memories.
If you would like more information about losing baby teeth, please contact us or schedule a consultation. To learn more, read the Dear Doctor magazine article "Importance of Baby Teeth."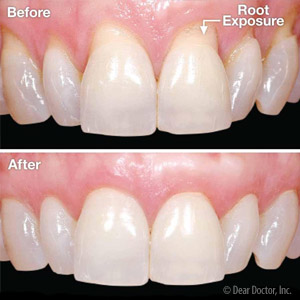 The worst outcome of periodontal (gum) disease is tooth loss—but it isn't the only form of misery you might suffer. One of the more troublesome results associated with gum disease is gum recession.
Normal gum tissue covers teeth from just above the visible crown to the roots, providing protection against bacteria and oral acid similar to the enamel on the crown. But advanced gum disease can weaken these tissues, causing them to pull away or recede from the teeth.
Not only can this diminish your smile appearance, but the exposed areas are more susceptible to further disease and painful sensitivity. And it certainly can accelerate tooth loss.
But there are some things we can do to reduce the harm caused by gum recession. If we're able to diagnose and treat a gum infection early while the gums have only mildly receded, the tissues could stabilize and not get worse.
The chances for natural regrowth are unlikely, especially the more extensive the recession. In such cases, the gums may need some assistance via plastic periodontal surgery. Surgeons reconstruct gum tissues by grafting like tissues to the area of recession. These grafts serve as a scaffold for new tissues to gradually grow upon.
There are two general types of grafting procedures. One is called free gingival grafting. The surgeon completely removes a thin layer of skin from elsewhere in the mouth (such as the palate), then shapes and attaches it to the recession site. Both the donor and recession sites heal at approximately the same rate, usually within 14-21 days. This procedure replaces missing gum tissue, but doesn't cover exposed tooth roots to any great extent.
In cases of root exposure, dentists usually prefer another type of procedure, known as connective tissue grafting.  The donor tissue is usually taken again from the palate, but the design of the surgery is different. A flap of tissue at the recipient site is opened so that after the connective tissue from the palate is placed at the recipient site to cover the exposed roots, the flap of tissue covers the graft to provide blood circulation to the graft as it heals.
Both kinds of procedures, particularly the latter, require detailed precision by a skilled and experienced surgeon. Although they can successfully reverse gum recession, it's much better to avoid a gum infection in the first place with daily oral hygiene and regular dental care.
If you would like more information on treating gum recession, please contact us or schedule an appointment for a consultation. You can also learn more about this topic by reading the Dear Doctor magazine article "Periodontal Plastic Surgery."