Posts for tag: Teeth Whitening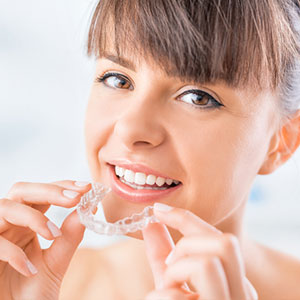 Teeth whitening or bleaching is one of the most affordable and least invasive ways of improving your smile. Although the effect fades with time, whitening can make dull and dingy teeth more attractive in short order.
Teeth whitening is also unique among cosmetic dental procedures in that you can do it yourself at home. While professional bleaching solutions are stronger and capable of greater brightness and longevity, you can still achieve good results with a DIY kit.
If you decide to whiten at home, though, there are a few things to keep mind for a desirable and safe outcome. Here are 3 tips for successful DIY teeth whitening.
Follow the directions. It's not a good idea, both for a successful and safe outcome, to stray away from a kit manufacturer's recommended directions. FDA-approved home kits usually contain 10% or less of carbamide peroxide (one of the more common bleaching agents). That may not seem very strong but it's adequate within the recommended time it remains on your teeth to achieve an effective whitening effect. Exceeding those directions could permanently damage your tooth enamel.
Make sure a home kit will work on your staining. Home whitening kits only affect outer staining on tooth enamel. But dental discoloration can also arise from inside a tooth, often because of trauma, tetracycline use, or as a side effect of a root canal treatment. This kind of internal staining requires a special procedure usually performed by an endodontist to reduce it. So, see your dentist first to make sure your teeth are healthy enough for whitening and that a home kit will work for you.
Get your dentist's advice on home kits. There are a number of whitening applications on the market you can choose, so ask your dentist for recommendations. They can also give you some helpful tips on the whitening process to ensure you'll be safe and successful in your efforts.
Here's a couple of other things to remember to enhance your teeth whitening experience: whether you whiten your teeth at home or with the dentist, be sure you continue to care for your teeth with daily brushing and flossing. And, if you limit your consumption of foods and beverages known to stain teeth, you'll help extend the duration of your brighter smile.
If you would like more information on teeth whitening procedures, please contact us or schedule an appointment for a consultation. You can also learn more about this topic by reading the Dear Doctor magazine article "Tooth Whitening Safety Tips."
By Corley Family Dental
June 10, 2014
Citizens of Decatur, it's time to know the importance of healthy teeth and what we have to offer for you. From routine cleanings and fillings to bruxism devices, Corley Family Dental is prepared to handle all of your dental needs.
The Importance of Dental Health
Drs. Natalie and Chad Corley want you to know that a healthy mouth means a healthy body. Maintaining good oral hygiene and keeping up with your dental cleanings and exams gives you a much greater chance of keeping your natural teeth your whole life. If you decide to fall into bad dental habits, the risk of gum disease goes up dramatically.
Knowing vital information about gum disease and its connection with your overall body health could be life altering. The Academy of General Dentistry has found that gum disease and health complications, such as a stroke and heart disease, have relations with one another. Swollen gums, mouth ulcers, dry mouth and other gum problems can be a tall telling sign of gum disease, or something bigger. Don't skimp on your gums, make sure to floss, brush, and visit us annually.
What We Offer to Help Our Patients
We are committed to doing everything we can to meet your dental needs. Listed below are the many procedures that we offer to our patients.
Crowns and Bridges
Specialty Dentures
Fillings - General Dentistry
Dental Implants
Orthodontic Treatment (Braces & Invisalign)
Sealants - children's dentistry
Root Canal Therapy
Extractions
Scaling and Root Planing
Many patients also come to us for cosmetic dental procedures. These methods can repair crooked teeth, treat an injury or improve the appearance of your teeth. Common procedures include:
Bonding – Tooth colored material is used to close gaps or change tooth color
Contouring and reshaping – Straightens crooked, chipped, cracked or overlapping teeth.
Veneers – Coatings, which are placed over the front teeth. Made to match the color of your natural teeth or can be made whiter.
Teeth Whitening
Here at Corley Family Dental, we are prepared to meet your needs for the smile that you've always wanted. Contact us today to learn more about or services or to schedule an appointment.